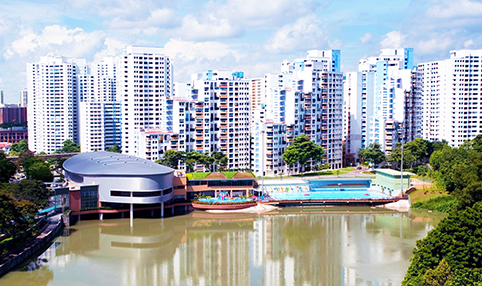 2012 BCA Universal Design Award (Open Category) Silver - Senja-Cashew Community Club
Senja-Cashew Community Club is a joint development by the Singapore Sports Council (SSC) and People's Association (PA). The building is holistically designed to integrate the requirements of SSC and PA together. It is seamlessly connected to the adjacent Bukit Panjang Plaza, HDB buildings and a bus stop through sheltered pathways and accessible lift. The central theme of "building without barrier" is experienced in this development.
Special features
- Strategic location of an accessible lift along the Bukit Panjang road side has helped elderly to cross over to Bukit Panjang Road
- Clear and easy-to-read signages are provided at strategic locations throughout the Community Club for visitors to locate its facilities. Orientation and way finding is made easy with good visual connectivity from the common entrance porch to Community Club's main facilities.
- The development is seamlessly accessible for wheelchair users and it has provisions for wheelchair parking spaces and a portable "lift" for wheelchair users to access the swimming pool.
- In addition to this, the development has pro-family facilities like nursing rooms, diaper changing station and children's toilets in strategic locations.
2014 BCA Green Mark Gold Award - Lam Soon @ Marsiling
This new purpose-built building was constructed to cater to Lam Soon;s continuous expansion. It incorporates an advance computerised ASRS (Automatic Storage Retrieval System) as well as green features.
Special Features
- Building is constructed with "green" materials
- Equipped with water efficient fittings that achieves 3 ticks under WELS
- Energy efficient air-conditioning system and lighting systems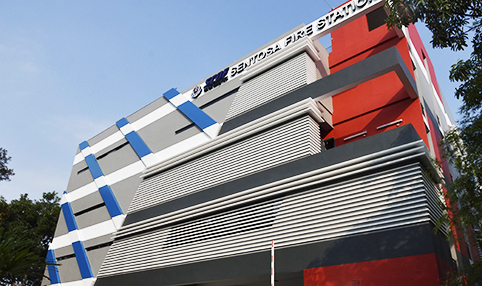 2015 BCA Green Mark Platinum Award - Sentosa Fire Station
Sentosa Fire Station is the first fire station to be awarded the Green Mark Platinum Award.
Special features
- Passive design to achieve natural ventilation
- Solar panels and Solar water heater.
- Low ETTV values for facade due to wall and glass specifications
- Cool paint on facade which lowers heat transfer
- 100% LED light fittings with motion sensor at toilets and staircases